Economical CNC Router With Tool changers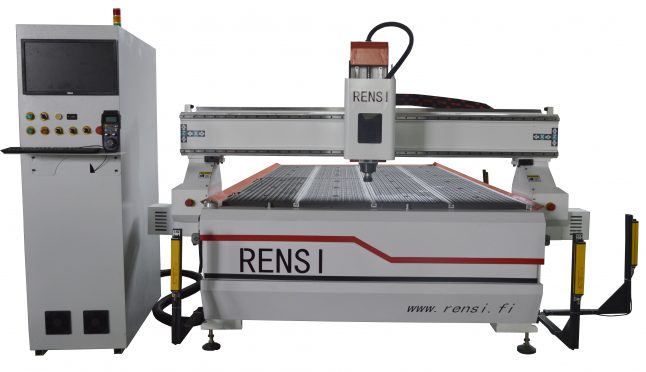 Features of Economical Router With Automatic Tool Changer
Our economical CNC routers with Automatic Tool changers are engineered and built to fit your application as well as your budget. Our economical CNC routers with servo motors, Vacuum T-slot tables, Full Vacuum tables  or T-slot tables are available in large and small table configurations and are capable of handling a wide variety of milling, drilling, contouring, boring, shaping, grooving, routing and engraving projects. All of our routers are built to be rugged, dependable and are backed with superior customer support. We have lots of customers in Scandinavia using them for various jobs.
Our ecomonical CNC routers with with linear tool changes  with high – performance and good price. The quality of every our router is excellent. Every CNC router carries a full year warranty and our great technical team support! You will find out many advantages after you have used our CNC router. Our economical CNC routers with ATC are  best choice for private, small, meddium or larger companies. Our goal is offer you more and cost you less!
Automatic tool changer with full vacuum, vacuum with T-slot orT-Slot table, rack and pinion, Servo Motors
With the automatic tool changer,  your don't need to change the tools manually, that will save time and  speed up the production process.
Unique auto tool changer system can change tools alternatively, tool sensor to compensate the tolerance of tool length
Full steel structure, thickness of pipe wall of bed is 10mm, advanced structural design, durable
Gantry dual-motor drive make sure the movement fast and smooth.
ATC spindles with low failure rate and high strength.
Applications
Applications for these CNC routers include: cut out letters, inlays, and ADA and 2.5-D and 3D signs; cabinets, furnitures, store fixtures and other woodworking and plastic POP projects; control panels; and plastic fabrication and machining and other milling, cutting and engraving process.  Perfect CNC routers for 3D models.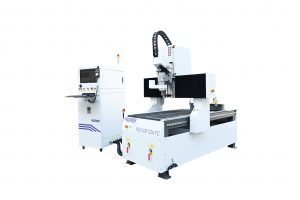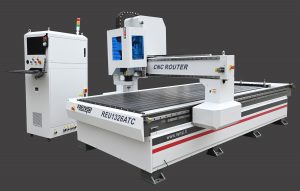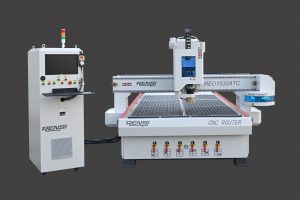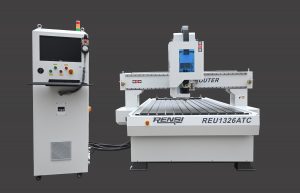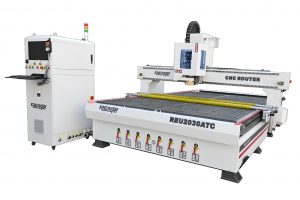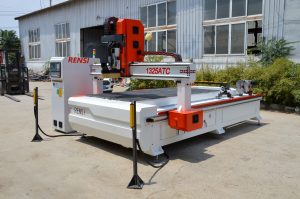 Tekniset tiedot
Item
REU0612ATC
REU1312ATC
REU1326ATC
REU1530ATC
REU2030ATC
Travelling size (mm)
600x1200x200
1240x1380x200
1340x2680x200
1540x3080x200
2040x3080x200
Working size (mm)
600x1200x180
1300x1200x180
1300x2600x180
1500x3000x180
2000x3000x180
Table to gantry
220mm
Spindle
5,5kw ATC spindle
9KW HQD ATC spindle  

(Optiona: 9KW HSD ATC spindle) 

Table
Vacuum table or T-slot vacuum table or T-slot table
  Vacuum pump for vacuum table
1 Set 4.8kW Vacuum pump
2 Sets 4.8kW Vacuum pump
Spindle speed
24 000 rmp
Linear Tool changer
4 positions
4 positions
6 positions
6-8 positions
8 positions
Collet /tool holder
BT30
ISO30/ER32
Inverter
Delta Inverter
Motor
Taiwan 750w Delta Servo Motors and Driver with Japa Reducer

( Option:YASKAVA Servo)

Transmission
Ball Srew in three axes
Helical Rack and pinion in X Y
Taiwan CSK Linear guide
Ball screw and coupling device in Z
Controller
NC-studio PM95A-3A with PCIE card, Lamda and HP PC Win.10 and 64bits
Voltage
380V/three phases/50Hz
Weight
850kgs
1000kgs
1300KGS
1500KGS
1700KGS

Option: Carousel ATC with 8 positions or 12 positions

Other options are available 
Videot