CNC Router With Servo Motor & Vacuum T-slot Table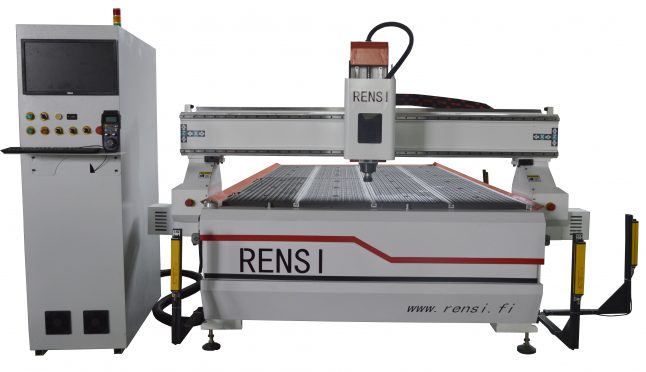 Features of CNC router with Vacuum T-slot table & Servo motor
Our CNC routers with servo motor and  vacuum-slot tables are engineered and built to fit your application as well as your budget. Our CNC routers with servo motor Vacuum T-slot table are available in large and small table configurations and are capable of handling a wide variety of milling, drilling, contouring, boring, shaping, grooving, routing and engraving projects. All of our routers are built to be rugged, dependable and are backed with superior customer support. We have lots of customers in Scandinavia using them for various jobs.
Our CNC routers with servo motor and  vacuum T-slot tables are with high – performance and good price. The quality of every our router is excellent. Every CNC router carries a full year warranty and our great technical team support! You will find out many advantages after you have used our CNC router.  If you are a small and middle shop our CNC router is a best choice for you. Our goal is offer you more and cost you less!
'With Vacuum with T-slot or without T-Slot table, rack and pinion, Servo Motors
The vacuum table system no need human fix the material and absorb the material automatically. . It suck the material by vacuum pump.
 Advantages Of Vacuum table: saving time, improving efficiency. It is much easy to process the large workpieces.
Full steel structure, thickness of pipe wall of bed is 10mm, advanced structural design, durable
Gantry dual-motor drive make sure the movement fast and smooth.
Italy spindle with low failure rate and high strength
Applications
Applications for these CNC routers include: cut out letters, inlays, and ADA and 2.5-D and 3D signs; cabinets, furnitures, store fixtures and other woodworking and plastic POP projects; control panels; and plastic fabrication and machining and other milling, cutting and engraving process.  Perfect CNC routers for 3D models.
Tekniset tiedot
Specifications
iM-Smart
iM-Smart
iM-Smart 2030M
iM Smart
1325M
 1530M
2040M
Control system brand
NC-SUDIO 64 bit
NC-SUDIO 64 bit
NC-SUDIO 64 bit
NC-SUDIO 64 bit
Spindle
HSD 7Kw/ 24000rpm
HSD 7kW/ 24000rpm
HSD 7kW/ 24000rpm
HSD 7kW/ 24000rpm
Brand of inverter
DELTA 7,5KW
DELTA 7,5KW
DELTA 7,5KW
DELTA 7,5KW
Servo motor
750W YASKAWA
750W YASKAWA
750W YASKAWA
750W YASKAWA
effective movement in X,Y and Z [mm]
1400*2600*200
1600*3100*200
2100*3100*200
2100*4100*200
Working size in X,Y Z(mm)
1300*2500*180
1500*3000*180
2000*3000*180
2000*4000*180
Clerance in Z axis [mm]
200
200
200
200
Type of working table
Vacuum with or T-SLOT vacuum
Vacuum with or T-SLOT vacuum
Vacuum with or T-SLOT vacuum
Vacuum with or T-SLOT vacuum
Table size [mm]
1350*2550
1550*3050
2100*3100
2100*4100
Becker vacuum pump
1pc of KVT3.140
2 pc KVT3.140
2 pc KVT3.140
2PC VTLF2. 250
 Vacuum zones
4
6
8
8
Tool changer
Without
Without
Without
Without
Max. Woorking speed in X and Y axis (m/min
20
20
20
20
Max. Woorking speed in Z axis(m/min)
10
10
10
10
Rapid speed in X and Y axis (m/min)
35
35
35
35
Rapid speed in Z axis m/min
15
15
15
15
X and Y axis possitioning accuracy [mm]
0.05/300
0.05/300
0.05/300
0.05/300
Z axis possitioning accuracy [mm]
0.02/300
0.02/300
0.02/300
0.02/300
Machine net weight [kg]
1800
2000
2200
2300
Ladattavat tiedostot
Videot