RE3 CNC Router With Turret ATC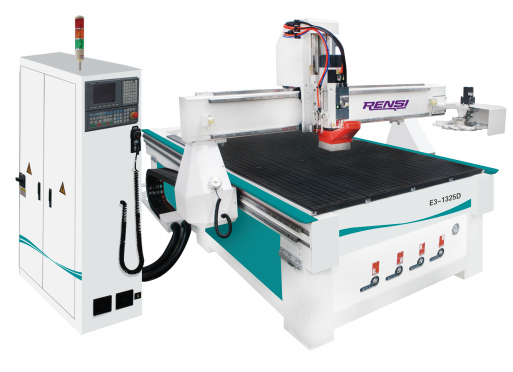 Features of CNC Router With Turret ATC:
Our CNC RE3 routers with Turret ATC are engineered and built to fit your application as well as your budget. Our RE3 CNC routers with turret ATC are available in large and small table configurations and are capable of handling a wide variety of milling, drilling, contouring, boring, shaping, grooving, routing and engraving projects. All of CNC routers with turret ATC are built to be rugged, dependable and are backed with superior customer support. We have lots of customers in Scandinavia using them for various jobs.
The quality of every CNC routers with turret ATC are xcellent  and every CNC router carries a full year warranty and our great technical team support! You will find out many advantages after you have used ourCNC routers with turret ATC.  If you are a small and middle shop our CNC router is a best choice for you. Our goal is offer you more and cost you less!
An entry-level all-rounder, choose your tool changer, linear or carousel, extraordinary solution with competitive price.
 Using world-class components, e.g. HSD 9kw ATC spindle, Japan Yaskawa servo motor driving system, Japan Shimpo gear reducer, Schneider low voltage electrical components, Delta inverter—guaranteeing optimum performance and minimum failure.
 Versatile functions: routing, drilling, cutting, side-milling, edge chamfering, etc.
 T-slot vacuum table with great absorption strength—absorb on multi-zone or clamp with pop-up positioning pin, it is your call.
 Boring aggregate optional.
Applications:
Wooden door, cabinet, panel furniture, closet, etc. Suitable for standard or bespoke production.
Tekniset tiedot
E3 series
E3-1325D
E3-1530D
E3-2030D
E3-2040D
Travelling size (mm)
1260*2500*200
1570*3100*200
2100*3020*200
2100*4020*200
Working size (mm)
1240*2480*180
1550*3080
2050*4000
2050*4000
Table size (mm)
1230*2500
1560*3100
2050*4020
2050*4020
Transmission
X/Y rack and pinion drive, Z ball screw drive
Table structure
T-slot vacuum
Spindle power
9.0KW
Spindle speed
24000r/min HSD
Travelling speed
35m/min
Working speed
20m/min
Tool magazine
Carousel
Tool slots
8
Driving system
Delta/Panasonic/Yaskawa
Voltage
AC380/3PH/50HZ
Controller
Syntec/OSAI
Optionals:
Up Z-axis travel to 300mm and working area to 280mm
Up working length to 3080/5000/6000mm
Osail controlling system
Ladattavat tiedostot
Videot